Christmas is coming kids. And not that I want to be accused of disrespecting Thanksgiving, but I'm already working on my wish list. One thing I'm hoping for is a new tote that I could use for transporting all my work files and my laptop when necessary. My current bag has a small rip that I can no longer ignore and was never really my style. 
Here are the results of my quick little Internet search. 
If I was purchasing this for myself, and had the money to be indulgent, this first bag would definitely be my choice. It's real leather in a gorgeous color and a great size (12.5" x 14.75" x 5.5"). Although $200 is outside my immediate budget, it's definitely a fair price for such an investment bag. 

J. Crew Newstand Tote in Brownstone, $198
This second bag is just over the top. Giant (16" x 17.5" x 8" ) and gorgeous, it looks like something I would take a nap on. But there is no salary that would justify dropping $450 on a work bag for me.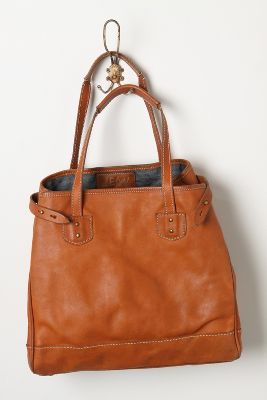 Anthropologie Rancher Tote in Brown, $448
This next bag looks tiny, but it's actually comparable in size to the J. Crew bag (13" x 15" x 5"). I do love it's school boy blazer aesthetic, but I don't know if I'd carry it in the warmer months. Tweed just seems fussy and itchy in 85 degree weather. 

Vatican Library Textured Satchel via Ruche, $73.99
And finally, at half off it's original price, this bright and beautiful bag may be my best option. It's sized appropriately (19" x 13" x 5") and has a great, classic shape. But compared to the perfection that is that J. Crew bag, it just seems like settling. 

a.n.a. Madeline Tote in Estate Green or Columbus Red via JCPenney, $39.99
Looks like I might be removing the work tote from my wish list and saving my own coins. Afterall, at 25, it's about time I start investing in quality pieces that will last at least until my next birthday.